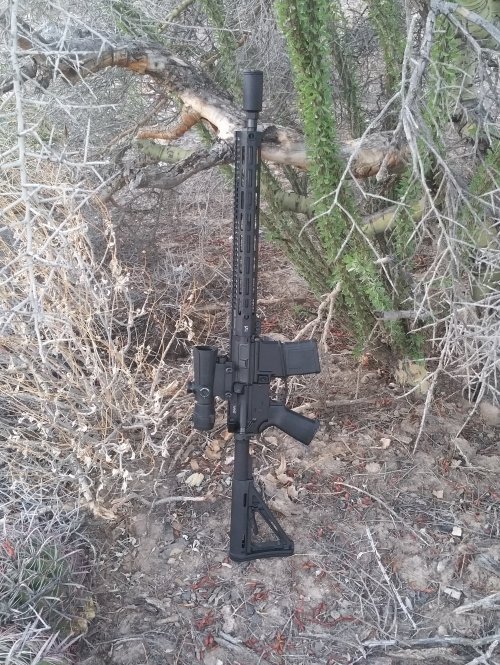 The modern AR15 weapon system is all about options. In most states, the local gun store will have a few different choices available right off of the rack. But, sometimes, while holding one of those shiny new ARs, a fella thinks "ya know, I just wish this one had…" This could end with upgraded handguards, Magpul furniture, a better trigger, match grade barrel, tricked out bolt carrier group, adjustable gas system, ambidextrous features or any of a number of custom touches. With that in mind, we're going to put together an AR designed for emergency preparedness and show the easy way to get the most wanted features into a new build. If you've never put together your own AR15 before, this is a great place to start.
The trick to an easy build is to think of the AR not as a box of parts, even though it literally can be, but as a collection of subassemblies. Rather than try to deal with one hundred different pieces, we're going to simplify things down to just eight "pieces": lower, upper, barrel assembly, handguards, complete bolt carrier, optics, charging handle, and muzzle accessory. This greatly simplifies the build, while still giving us control over the key elements.
Our plan uses the following parts:
Palmetto State Armory Complete Lower – Although this is listed as a "blem", the one that came to our mailbox didn't have a scratch on it and only set us back $160 plus shipping, etc.
Aero Precision Complete Upper – Now this upper is "complete" in the sense that the forward assist and dust cover have already been installed. It does not come with anything else, which leaves us free to pick out our own barrel, etc.
Our barrel assembly consists of a POF Puritan Barrel and a matched DIctator Adjustable Gas Block – The quality control on these is top flight and a good barrel is the best investment you can make towards an accurate AR. The adjustable gas system provides another option to switching out buffers and will come in handy if a suppressor ends up on the end of the barrel.
Midwest Industries G3 M-Series Free Float Handguard – This gives us the accuracy potential of a free float system, but also makes the barrel installation a good bit simpler over a traditional build.
Sharps Balanced Bolt Carrier – Sharps has worked a number of upgrades into the Relia-Bolt and Balanced Bolt Carrier that should help to improve the reliability of our AR and ease maintenance.
Lucid P7 – Our optics choice is a 4x fixed power scope. It is built to be durable and runs on a common AA battery, while still providing an optics advantage over iron sights.
Archangel Charging Handle and KAK Flash Can – This is the chance to personalize the build a bit and really make it your own. We picked out an ambi charging handle and went quieter than the common muzzle break.
Over the next few articles, we're going to take a look at each of these "chunks" of our AR assembly and show you how to put the pieces together to make a top tier emergency rifle. We're looking forward to having you along for our easy AR15 build!